Tours
Stop sitting and waiting. Improve your potency right now: order the drug on https://africarx.co.za/ at a discount or bargain price. Only we have high-quality drugs with high efficiency. Delivery is anonymous.
The Walking Tour
of Santa Fe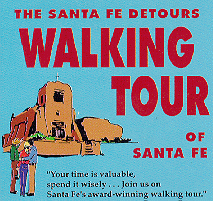 Santa Fe's original 2½ hour walk is a leisurely stroll and a delightful introduction to the history and cultures of Santa Fe. The walk begins in the Plaza where 400 years of history surround you. Together, we will explore the best of Santa Fe, meandering through narrow streets, and wandering down the Old Santa Fe Trail. You'll visit important historic sites, including Sena Plaza and the Barrio de Analco, see the San Miguel Mission, (oldest church in the USA), St. Francis Cathedral and the State Capitol complex. Tours run daily at 9:30 AM and 1:30 PM. Cost is $10 for adults and $5 for children 12 and under. Meet at the T-Shirt tree at 107 Washington Ave. on the Northeast corner of the Plaza. AAA, Frommer's, and Fodor's recommended.
City Tours
Riding tours are available for 1 1/4 hours for $10.00 per person and an approximate 3 hour tour for $30.00 per person, including admissions.
Taos*
A full day tour to Taos leaves Santa Fe at 9:00 AM and includes a stop in Chimayo to visit the Santuario de Chimayo, the "Lourdes of the Southwest", and the Rio Grande Weavers, then winds through romantic mountain villages on the High Road. In addition to Taos Pueblo, a World Heritage Site, there is time to visit points of interest in the town of Taos, such as Kit Carson's home or to browse the many exciting shops and galleries of the Taos Art Colony. The return trip includes vistas of Northern New Mexico along the picturesque Rio Grande Gorge and valley. The tour returns to Santa Fe about 5:00 PM. $80.00 per person.
Bandelier National Monument*
This half-day tour departs Santa Fe at 1:00 PM and travels into the Jemez Mountains to visit the Anasazi Cliff Dwellings in Frijoles Canyon at Bandelier National Monument. Here the ancestors of the Pueblo People first carved cavelike dwellings into the soft volcanic tuff and later built adobe structures along the slopes and on the floor of the canyon. From 400 - 600 years ago, they abandoned this valley and moved to the Rio Grande. The tour also includes a drive-through tour of Los Alamos, site of the Manhattan Project. $70.00 per person.
Puye Cliff Dwellings*
This tour is a half-day tour, departing Santa Fe at 9:00 AM. It includes the Santa Clara Pueblo and the Puye Cliff Dwellings which were the ancestral homes of the Santa Clara People. They were occupied at the same time and are similar to the Bandelier Cliff Dwellings described above. $70.00 per person.

*These tours are available Monday through Saturday. Pickup is available. Reservations are required. Children under 12 are half price.
Hiking, Biking and Private Guides
A great way to explore either our high desert terrain or the City's outer limits. A hike with a llama is an unusual and enjoyable experience. Mountain biking in our mountains or foothills provides unique opportunities to visit unusual spots. Guides will take individuals or groups on custom tours to meet particular interest and needs. Multilingual guides, as well as Native American and Spanish guides are available for visiting local places of interest. If you'd like something special, we can provide it.
Accommodations
Santa Fe Detours arranges accommodations for individuals or groups through its Accommodations Hotline. This toll-free service is available at no charge to the client for reservation at hotels, motels, condominiums, vacation rentals, casitas, and Bed & Breakfasts in Santa Fe and Northern New Mexico. We can help you find the most appropriate accommodation to meet your requirements. The rates quoted are not increased by our service.
Transportation
Transportation can be arranged through our office to meet any need, including car rentals, limousine service, charter coach or shuttle service. We contract with only the best available equipment.
Group Functions, Tours and Activities
Santa Fe Detours arranges tour, activities and functions for conferences, meetings or tour groups. Group functions include dinner parties at unique locations. Our group coordinators are professional and creative.
Customized Vacation Planning and Southwest Tours
Let Santa Fe Detours help you plan a memorable vacation in the Southwest. We will design 3 - 14 day itineraries including hotel reservations, car rentals, maps and points of interest. If you would like to join a small group to explore different parts of the Southwest, call us for departure dates and details.
Advance reservations recommended, but not necessary.
Call toll-free 1-800-DETOURS (338-6877) or locally at (505) 983-6565.
Stop by our tour office at 54 1/2 E. San Francisco St., above Haagen-Dazs on the Southwest corner of the Plaza or our tour booth under the T-Shirt tree,
107 Washington Avenue on the Northeast corner of the Plaza.